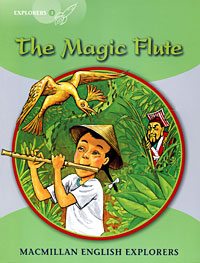 The Magic Flute: Level 3
In this Chinese legend, Chang loves playing his wooden flute, but the wicked Emperor is jealous of his skill and popularity. With the help of a mysterious old man and a golden bird, Chang outwits the Emperor and helps the poor people of the village at the same time. Macmillan English Explorers have been written specifically for young learners of English. They bring first language teaching methods to reading lessons in international classrooms.
Дополнительные учебные пособия -> Английский язык
Автор:
Gill Munton
Серия:
Macmillan English Explorers
Языки:
Английский
Издательство:
Macmillan Education
ISBN:
978-1-4050-6010-3
Подробнее ...