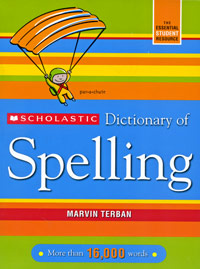 Scholastic Dictionary of Spelling
The revised "Scholastic Dictionary of Spelling" is a handy, alphabetical guide of more than 16,000 words that you can turn to for instant spell-checks. Due to its accuracy, relevance, and fun (with sections like "The Four Longest Words in the English Language"), this is the perfect spelling reference for students. Inside you will find: A user-friendly format that offers an easy way to find the word you are looking for. More than 150 memory tricks to help you master those commonly misspelled words. A Misspeller's Dictionary to find words you may not even know how to look up. Essential spelling rules - and their exceptions. Many humorous and helpful drawings. Every teacher and student knows that, even with spell-check, nothing heats actually knowing the correct spelling of a word. With the "Scholastic Dictionary of Spelling", students will have the one great resource for this important skill. Формат: 16 см x...
Дополнительные учебные пособия -> Английский язык
Автор:
Marvin Terban
Серия:
Языки:
Английский
Издательство:
Scholastic, Scholastic Reference
ISBN:
0-439-76421-1
Подробнее ...