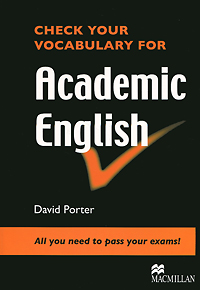 Check Your Vocabulary for Academic English
This workbook contains exercises to help teach and practise the vocabulary students need for academic purposes. Written for students at upper-intermediate level and above, this workbook aims to help those who need to learn basic non-technical vocabulary so that they can study any subject at college or university. The material uses exercises, gap-fills and puzzles to test grammar, comprehension and spelling. Key Features Tests and improves vocabulary with exercises, word games, puzzles and quizzes; Easy-to-use format with clear instructions and answer key; Ideal for self-study or classroom use.
Дополнительные учебные пособия -> Английский язык
Автор:
David Porter
Серия:
Check Your Vocabulary
Языки:
Английский
Издательство:
Macmillan Education
ISBN:
978-0-230-03364-1
Подробнее ...