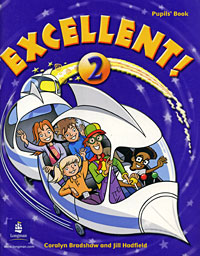 Excellent 2: Pupil's Book
Excellent! Is a four-level Primary English course that offers the right level of challenge to help pupils achieve real results. Pupils practise the four skills from the beginning through tasks that relate to their own lives and stimulate their imaginations. Clear pair-work activities make learning more memorable and encourage collaboration in the classroom. In Level 2: A motivating cartoon story (The Mystery Train) introduces key language and engages pupils' imaginations; Talk Time pages present useful, everyday language in realistic contexts; Fact Files provide extended reading practice and cultural information; Test Time pages in the Activity Book help prepare pupils for the Cambridge Young Learners exams: Movers My Excellent! Word Book (a pull-out booklet with stickers in the Activity Book) offers fun revision and a handy language reference. Level 2 includes: - Pupils' Book. -...
Дополнительные учебные пособия -> Английский язык
Автор:
Coralyn Bradshaw and Jill Hadfield
Серия:
Языки:
Английский
Издательство:
Longman, Pearson Education Limited
ISBN:
0-582-77840-9
Подробнее ...