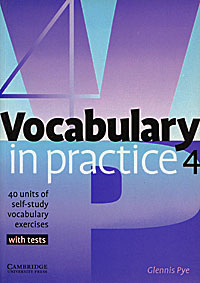 Vocabulary in Practice 4
"Vocabulary in Practice 4" - is a book tor students who want to practise vocabulary in a fun way. Level 4 has about 600 useful words for intermediate students. Enjoyable exercises. Quick to do. Easy to carry. Tests after every 10 units. With answers. Vocabulary list with notes and help with pronunciation. Words taken from computer data of real English. Издание на английском языке. Формат: 15 см х 21 см.
Дополнительные учебные пособия -> Английский язык
Автор:
Glennis Pye
Серия:
Языки:
Английский
Издательство:
Cambridge University Press
ISBN:
0-521-75376-7
Подробнее ...