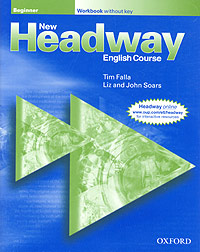 New Headway English Course. Beginner. Workbook without Key
"New Headway English Course" is a development of the highly successful multi-level Headway series. The choice of activities and materials makes the learning of English stimulating and motivating for both adult and young adult learners. The course combines the best of traditional methods with more recent approaches to help students use English accurately and fluently, and provides a fully comprehensive language teaching series from beginner to advanced. "New Headway Beginner" is a new full-length foundation course in basic English for absolute beginners, or for those who have learned a little English but lack confidence to build on it. It provides a solid introduction to the structure of the language, gradually building students' understanding of basic grammar, equipping them with key vocabulary, and giving them skills to deal with simple social situations. It is a thorough preparation for New Headway English Course Elementary. Key features - Clear design...
Дополнительные учебные пособия -> Английский язык
Автор:
Tim Falla, Liz and John Soars
Серия:
Headway
Языки:
Русский
Издательство:
Oxford University Press
ISBN:
0-19-437633-8
Подробнее ...