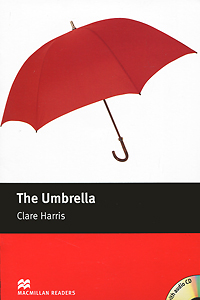 The Umbrella: Starter Level (+ CD-ROM)
This is a romantic story of mistaken identity. On a wet day, the purchase of an umbrella leads to a romantic chance encounter. This is an starter-level story in a series of ELT readers comprising a wide range of titles - some original and some simplified - from modern and classic novels, and designed to appeal to all age groups, tastes and cultures. The books are divided into five levels: Starter Level, with about 300 basic words; Beginner Level (600 basic words); Elementary Level (1100); Intermediate Level (1600); and Upper Level (2200). Some of the titles are also available on cassette. It is raining. The sky is grey. Carla goes to the market. She looks at the umbrellas. She likes a red umbrella. It's very smart. It costs ten dollars. Carla is a student. She doesn't have much money. A woman is selling the umbrella. Carla looks at the woman. "I can give you seven dollars for that umbrella," she says. "OK, young lady," says the woman. "This is your lucky...
Дополнительные учебные пособия -> Английский язык
Автор:
Clare Harris
Серия:
Macmillan Readers
Языки:
Английский
Издательство:
Macmillan Education
ISBN:
9781405077989
Подробнее ...