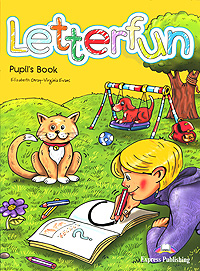 Letterfun: Pupil's Book
Letterfun is an innovative approach to alphabet teaching for young learners of English. Young learners are introduced to the English alphabet through a variety оf activities including nursery rhymes, games and TPR songs. Letterfun activities and songs use full-colour illustrations and are accompanied by a fully-dramatized CD. Letterfun consists of twenty-three lessons of two pages each. Letterfun can be used independently or as an introduction to a Pre-junior or Junior course. The Letterfun alphabet book introduces the letters pictorially reinforcing the shape and the sound of each letter. Further consolidation оf the letters is achieved through a wide range оf activities and popular children's songs. At the end оf the book there are Picture Word Cards for further recycling оf the letters. Letterfun guarantees an enjoyable and thorough learning experience!
Дополнительные учебные пособия -> Английский язык
Автор:
Elizabeth Gray, Virginia Evans
Серия:
Языки:
Английский
Издательство:
Express Publishing
ISBN:
978-1-84216-965-0
Подробнее ...