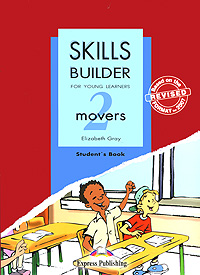 Skills Builder: Movers 2: Student's Book
Key features: appropriately balanced practice of all four language skills, meaningful use of language in clear and accessible contexts, text and pictures presented in a clear and attractive way, which takes into account the age and interests of young learners, motivating, learner-centred tasks which offer children opportunities to have fun while practicing, activities designed to familiarise young learners with real-world tasks, such as carrying out instructions, locating, summarising, note-taking, etc. The Teacher's Book provides: a full key to the exercises in the Student's Book, tapescripts of all the listening material, warm-up and follow-up activities for each task, a thematic vocabulary list and a list of the grammatical structures covered.
Дополнительные учебные пособия -> Английский язык
Автор:
Elizabeth Gray
Серия:
Языки:
Английский
Издательство:
Express Publishing
ISBN:
978-1-84679-211-3
Подробнее ...