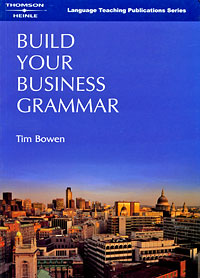 Build Your Business Grammar
"Build Your Business Grammar" is an intermediate practice book for students of business English. It covers most of the key areas of English grammar presented in business contexts. Easy to use in class or at home; All answers given; Packed with useful vocabulary; Variety of exercise types. "Build Your Business Grammar" recognises that all students at this level will have already met all the basic points of English grammar. The emphasis is on practice in natural contexts. There are 74 units divided into 8 sections: Everyday Business English; Problem Solving; Business Travel; Facts and Figures; Presentations; Phone and Fax; Reports; Meetings and Negotiations. "Build Your Business Grammar" reflects the author's experience that business students still need to practise basic grammar. Формат издания: 17 см х 24...
Дополнительные учебные пособия -> Английский язык
Автор:
Tim Bowen
Серия:
Языки:
Английский
Издательство:
Thomson Heinle
ISBN:
1-899396-45-4
Подробнее ...