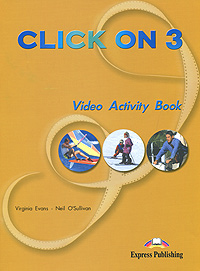 Click On 3: Video Activity Book
The "Click On TV 3 Elt Video" and the "Click On 3: Video Activity Book" constitute a short listening and speaking course for learners of English at secondary level. The video reviews and consolidates the material taught in the "Click On 3: Student's Book", and enhances the learners' grasp of everyday conversational English. The video contains: 10 units which have been shot and edited in the style of a TV magazine, each one dealing with language material presented in the corresponding "Click On 3: Student Book" unit. Video clips of all the songs found in the Audio CD which accompanies the Student's Book. The story of The Adventures of Huckleberry Finn in 10 episodes, presented through vivid and colourful animation. The Video Activity Book contains: Warm-up and presentation activities. Comprehension and consolidation exercises for before, while and after viewing the video. ...
Дополнительные учебные пособия -> Английский язык
Автор:
Virginia Evans, Neil O'Sullivan
Серия:
Языки:
Английский
Издательство:
Express Publishing
ISBN:
978-1-84325-592-5
Подробнее ...