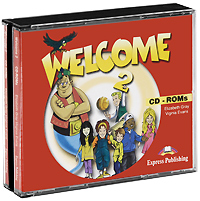 Welcome 2 (аудиокурс на 4 CD)
Welcome to the fascinating world of interactive learning. This set of CDs, based on the content of the acclaimed "Welcome 2: Coursebook", contains 14 complete interactive units which encompass all language skills in the most entertaining and constructive manner and action-packed games make lessons an experience children can't to get involved in.
Дополнительные учебные пособия -> Английский язык
Автор:
Elizabeth Gray, Virginia Evans
Серия:
Языки:
Русский
Издательство:
Express Publishing
ISBN:
978-1-84216-142-5
Подробнее ...