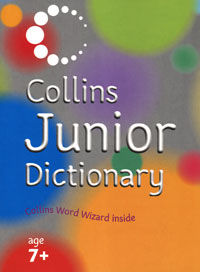 Collins Junior Dictionary
For children aged 7 and over, this clear, easy-to-use dictionary contains full sentence definitions, child-friendly example sentences and parts of speech (noun, adjective etc) as well as colour headwords, an A-Z index on every page and homework help with the Collins Word Wizard. Colour headwords and the alphabet on every page make it easy to find the right word. Words are clearly defined and used in a full sentence to increase understanding of the word. Collins Word Wizard includes useful word lists, brainteaser quizzes and help with spelling, grammar and writing to improve language skills. Durable "Flexi" cover. For ages 7+.
Дополнительные учебные пособия -> Английский язык
Автор:
Серия:
Языки:
Английский
Издательство:
HarperCollins
ISBN:
978-0-00-720369-7, 0-00-720369-1
Подробнее ...