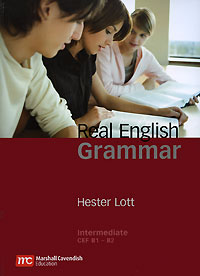 Real English Grammar: Intermediate (+ CD)
"Real English Grammar" presents grammar in a fresh and user-friendly way at both pre-intermediate and intermediate levels. It is suitable for self-study or classroom use. The "Real English Grammar" approach enables students to understand and practise the underlying concept behind the grammar and its form, by demonstrating how the item is used in real contexts. A Teacher's Guide comparing the Pre-lntermediate and Intermediate levels and providing an overview of the methodology, sample lesson plans and full answer keys is also available. This intermediate "Real English Grammar" comprises: 71 four-page units, covering all the main grammar points and relevant lexical areas; Each unit comprises an example in a short, illustrated text, followed by detailed explanations of the form and uses and two pages of practice exercises; The texts and exercises consist of a wide range of genres of modern English (letters, emails, schedules,...
Дополнительные учебные пособия -> Английский язык
Автор:
Hester Lott
Серия:
Языки:
Английский
Издательство:
Marshall Cavendish Academic
ISBN:
978-0-462-00744-1, 0-462-00744-8
Подробнее ...