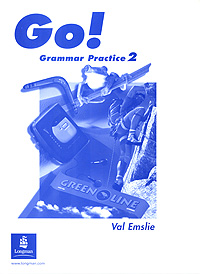 Go! Grammar Practice 2
Fresh, fun and bursting with energy, Go! is a secondary school course which takes students from beginner to pre-intermediate level. "Go! Grammar Practice 2" provides systematic practice and revision of the main grammar points covered in Go! Students' Book 2 through a variety of clear, contextualised grammar exercises. Key Features: Thorough practice and recycling of the main grammar points through graded write-in exercises. Comprehensive grammar reference tables which summarise all the main structures with clear examples. Additional development of reading and writing skills in exercises which recycle key grammar and vocabulary. Revision exercises at the end of each section. A unit by unit contents list and an alphabetical grammar index for easy reference.
Дополнительные учебные пособия -> Английский язык
Автор:
Val Emslie
Серия:
Языки:
Английский
Издательство:
Addison Wesley Longman, Pearson Education Limited
ISBN:
0-58229234-4
Подробнее ...