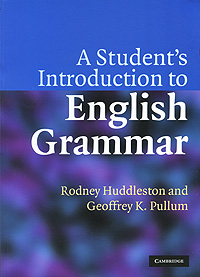 A Student's Introduction to English Grammar
This groundbreaking undergraduate textbook on modern Standard English grammar is the first to be based on the revolutionary advances of the authors' previous work, The Cambridge Grammar of the English Language (2002), winner of the 2004 Leonard Bloomfield Book Award of the Linguistic Society of America. It is intended for students in colleges or universities who have little or no previous background in grammar, and requires no prior knowledge of linguistics.
Дополнительные учебные пособия -> Английский язык
Автор:
Rodney Huddleston and Geoffrey K. Pullum
Серия:
Языки:
Английский
Издательство:
Cambridge University Press
ISBN:
978-0-521-61288-3
Подробнее ...