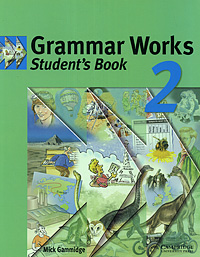 Grammar Works 2: Student's Book
"Grammar Works 2" provides grammar practice for young students (10-14 year olds). It will take learners from upper-elementary level up to pre-intermediate. It is designed to supplement a course book to consolidate grammar content and can be used for homework or as revision material. Grammar presented in context, focusing on both form and meaning. Full grammar reference section. Clear, simple language for instructions and explanations. Structured progression through each unit from controlled supportive practice to free practice. Range of activity types. Variety of motivating, educational topics specially selected for the age range of the students. Real world content and (semi) authentic texts. Regular Check point units to test students' progress. Optional photocopiable tests, vocabulary worksheets and practical classroom suggestions in Teacher's Book.
Дополнительные учебные пособия -> Английский язык
Автор:
Mick Gammidge
Серия:
Языки:
Английский
Издательство:
Cambridge University Press
ISBN:
0 521 55541 8
Подробнее ...