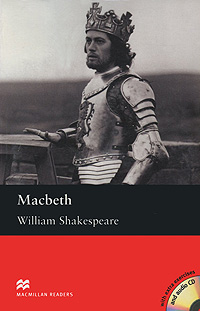 Macbeth: Upper Level (+ 2 CD-ROM)
Shakespeare's Scottish story of magic and murder is one of his darkest works. Macbeth's bloody rise to power is encouraged by his wife, Lady Macbeth. Their ambition leads them into a world of guilt and madness which destroys their marriage - and ends in tragedy. This Macmillan Reader is written as a playscript and includes original extracts from Macbeth. Extra grammar and vocabulary exercises; Notes about the story; Notes about the life of William Shakespeare; Points for Understanding comprehension questions; Glossary of difficult vocabulary; Audio CD/download available for this title. Retold by Margaret Tarner.
Дополнительные учебные пособия -> Английский язык
Автор:
William Shakespeare
Серия:
Macmillan Readers
Языки:
Английский
Издательство:
Macmillan Publishers Limited
ISBN:
978-0-2304-0223-2
Подробнее ...